Internals
KGW produces internals for steel and hybrid towers for onshore and offshore wind power plants.
For Steel Towers
Mechanical and electrical equipment to customers' specifications
Support in prototype development
The complete procurement of components and installation is carried out by KGW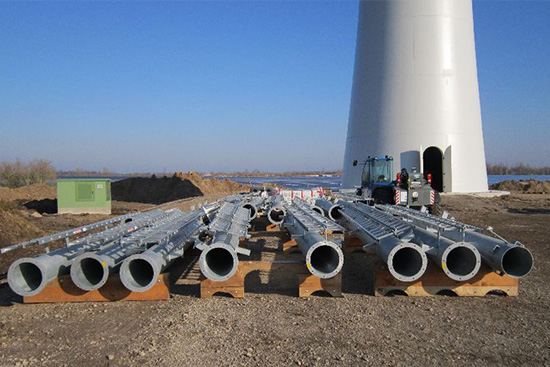 For Hybrid Towers:
KGW has developed a pipe module system with pre-assembled fixing elements of all components, providing the following advantages:
Transportation of all internals to the construction site on a standard truck
Time-saving installation of all internals directly on site
Simple installation without heavy gear, i.e. no crane required
Installation regardless of wind and weather conditions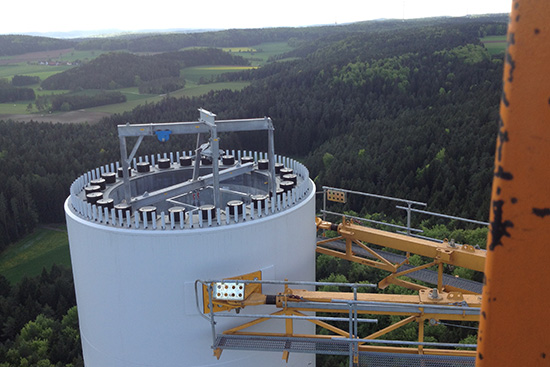 Internals Kit for Steel and Hybrid Towers
KGW offers pre-assembled kits of internals, each tower and section of which is completely prepared for transportation by road or sea. On demand, KGW takes over the entire logistics of progress supervision and transport to the wind farm.
Up to now, KGW kits have been supplied for projects in Germany, Turkey, Poland, Uruguay and France.
Customized Equipment Options
Access ladder, aluminum and/or steel hot-dip galvanized design (with the back to the tower wall or center) plus access aid
Safety system with a fall protection rope or rail
Platforms made of aluminum, hot-dip galvanized steel or slotted plywood
Power supply via cables or busbar

Interior lighting fully installed
Entrance door with ventilation grill, insect screen, filter mat as well as anti-panic locking system
Assembly access hatch with a securing cage

External staircase with and without protection

Vibration damper

HV connection elements in ready-for-installation packing
Additional facilities, such as service winch or lift cage
Service lift